About Draft Civil and Commercial Code (1919)
A. Resource
According to the report of Mr. René Guyon in 1919, the final draft for the "Civil and Commercial Code, Book on Obligations" was accomplished in 1917. He wrote:
"The preliminary drafting [of Book on Obligations] of about 1400 Sections took some time (1908 – 1912), and a Draft was then submitted to the Revising Committee (1913), […] and the draft was then finally completed by the insertion of the contract of mortgage and of the preferential rights on immovables (1917). Now that it has been adopted, it is under translation."
(René Guyon, "The Work of Codification in Siam", Paris, 1919. In: สุรพล ไตรเวทย์, การร่างประมวลกฎหมายในประเทศสยาม, ๒๕๕๐, น.๒๐๐ – ๒๐๑)
This document was not officially published.*) However, its personal copy in the possession of Phraya Manava Rachasevi was identified in the "Phya Manava Rajsevi Library" in the Main Library of Bangkok University in Bangkok on June 16th, 2013 (Signature 217 and 217.2 in the part of books in foreign languages).
*) Recently, one copy of an earlier version of the Draft (dated "August, 1914") was identified in an internet portal "Archive.org", which had been probably compiled under direction of Monsieur Georges Padoux. This copy is in possession of Cornell University Library; it means, this version must have been officially published before Monsieur Padoux left the Kingdom of Siam in the same year.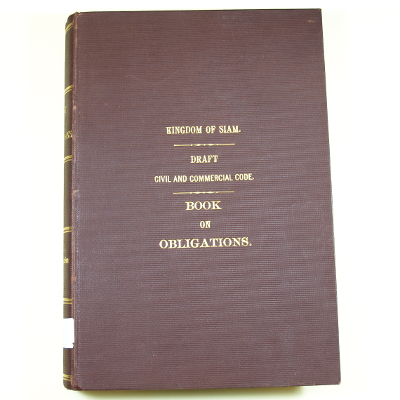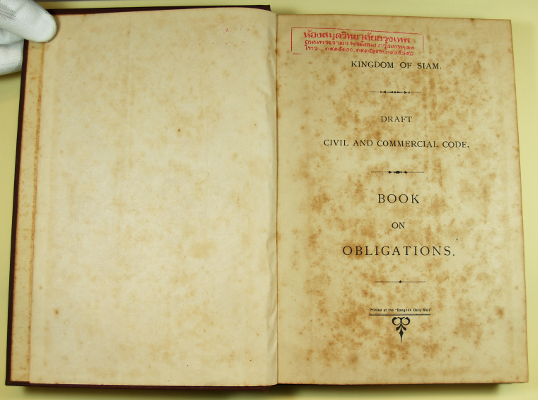 Besides "Book on Obligations", there is another volume for the Draft 1919, which contains following contents:
Civil Code: Book on Capacity of Persons.
Law on Family Registration.
Civil Code: Book on Things.
Law on Conflict of Laws.
Annexes: Law of Procedure in Civil Cases, Bankruptcy Act.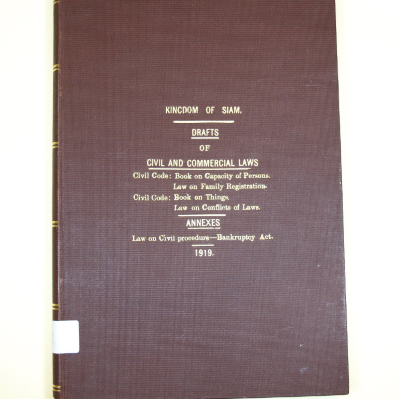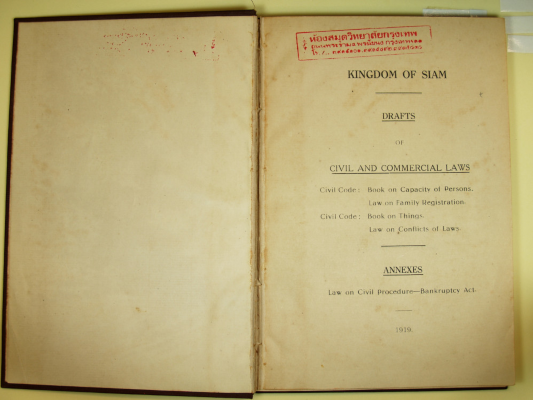 B. Contents: Unprocessed Page Images
Contents of the Volume I "Book on Obligations"

Book cover (PDF 5 MB)
List of the contents (PDF 2 MB)
Preliminary: Secs. 1 – 39 (PDF 16 MB)
Div. 1 - How Obligations Arise: Secs. 40 – 137 (PDF 37 MB)
Div. 2 - Of Various Kinds of Obligations: Secs. 138 – 199 (PDF 29 MB)
Div. 3 - Transfer of Obligations: Secs. 200 – 217 (PDF 10 MB)
Div. 4 - Effects of Obligations: Secs. 218 – 305 (PDF 39 MB)
Div. 5 - Rights of the Creditor over the Property of the Debtor: Secs. 306 – 349 (PDF 22 MB)
Div. 6 - Extinction of Obligations: Secs. 350 – 387 (PDF 17 MB)
Div. 7 - Specific Contracts

Contents of the Volume II
«—— Completed ——»
C. Text: Book on Obligations with Page Images
Individual files with page images (from Preliminary to Division VI.)

Book Title and Contents (PDF : 27.1 MB)
Preliminary (PDF : 38.6 MB)
Division I. "How Obligations Arise."
Division II. "Of Various Kinds of Obligations."
Division III. "Transfer of Obligations." (PDF : 33.0 MB)
Division IV. "Effects of Obligations."
Division V. "Rights of the Creditor over the Property of the Debtor." (PDF : 55.5 MB)
Division VI. "Extinction of Obligations." (PDF : 44.8 MB)
«—— Completed ——»
Individual files (Division VII. "Specific Contracts")
Text Only in a single file (PDF)
«—— Completed ——»
D. Text: Second Volume with Page Images
Individual files with page images

Text of the "Book on Capacity of Persons" (PDF : 15 MB)
Text of the "Draft Law on Family Registration" (PDF : 34 MB)
Text of the "Book on Things"
Text of the "Draft Law on Conflicts of Laws" (PDF : 63 MB)
Text of the "Law of Procedure in Civil Cases (1908)"
Text of the "Bankruptcy Act (1911)"

Text Only in a single file (PDF)
«—— Completed ——»