Translation and Revision of the Draft
A. Digital Archives
According to the announcement of the Thammasat University Library "รายการไมโครฟิล์มที่สำนักงานคณะกรรมการกฤษฎีกามอบให้สำนักหอสมุดทำดิจิทัลไฟล์", there are several microfilms in the library of the "Council of the State" which contain the documents written during the codification process. These digitalized Archives "The Archives of the History of Thai Codification" (280 entries) are now offered to public access on the website of Thammasat University Library.
However, it is not easy to obtain an overview over the whole archives. So, for the convenience of the investigation, a table of direct links to each particular archive is created. This file contains following 4 lists:
All Archives (p.1 - 9)
Civil and Commercial (p.10 - 15)
Civil Procedure (p.16)
Penal (p.17 - 18)
Criminal Procedure (p.19)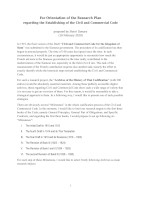 The archives regarding Civil and Commercial Code show such a wide range of variety that it is not easy to get an overview over them. For this reason, it would be reasonable to take a strategical approach to them. This is my first proposal for such a strategical approach (Stand: 18 Fabruary 2020).
B. Overview: Roll 11 and 12
Among these archives, the Rolls "ม้วนที่ 11" and "ม้วนที่ 12" contain especially important documents for the history of establishing the Civil and Commercial Code; namely there are different versions of the translation of the Draft and their revision works. Following files show the overview over thiese archives:
Coverpages of the Documents (Vol.66 - 74) in "ม้วนที่ 11" (PDF)
Coverpages of the Documents (Vol.75 - 84) in "ม้วนที่ 12" (PDF)
Contents of "ม้วนที่ 11" and "ม้วนที่ 12" (PDF)
C. Sample Pages